Why is consistent branding important? 
As a marketer or brand, branding is important in keeping an identifiable business. Branding helps to keep customer's perception of a business strong, clear and recognizable. Effective branding allows a company to set themselves apart from customers and ensure that they are easily recognised on all marketing channels. In this blog, we will be showing you how to create a style guide and keep branding consistent, as well as how you can use Logo Repo to keep your logos consistent.
Think of the big brands that you follow on social media, what stands out? Or perhaps nothing stands out, and they remain consistent and easily identifiable? Chances are you can easily identify a business behind a graphic or post without even seeing the account username!  
Consistent branding gives a company a competitive advantage over rivals which can help you retain customers through loyalty to your brand. People buy-in to a business, and branding is an important part of this. Through creating a friendly and identifiable brand, you build more than just a business, you build a community. This shapes your reputation and customer expectations both for yourself and for competitors. 
You may be asking what branding includes. It is more than just a set of colours, and can include: 
Tone of voice 
Logos 
Website design 
Graphic designs 
Colours 
Typography 
Personality traits 
What is a style guide? 
A style guide is a document that includes all elements of your business branding. Think of it as your 'branding manual'. The branding document allows you to keep consistency high across your website in terms of presentation and design. It is essentially a set of standards for the design of a brand that includes the colour, logos, typography and sometimes more. This means that learning how to create a style guide is an important head start on keeping all branding consistent.
The best websites to create a style guide with 
There are many ways to create style guides, either manually, or by using templates. 
Personally, we like to use graphic design tools like Canva and Venngage to create style guides. These marketing tools make it easy and achievable to throw together a great looking style guide with an approaching deadline. Or for those that want detailed, more extravagant style guides, Canva and Venngage allow you to spend as much time as you want to create a fully customized style guide. 
At the Logo Repo, we have used Canva to create our style guide. We decided to check out the existing templates on Canva by searching for 'style guides' in the template search bar. When searching for style guide templates, there will be many already available. Remember you can resize these Canva templates to match your desired size.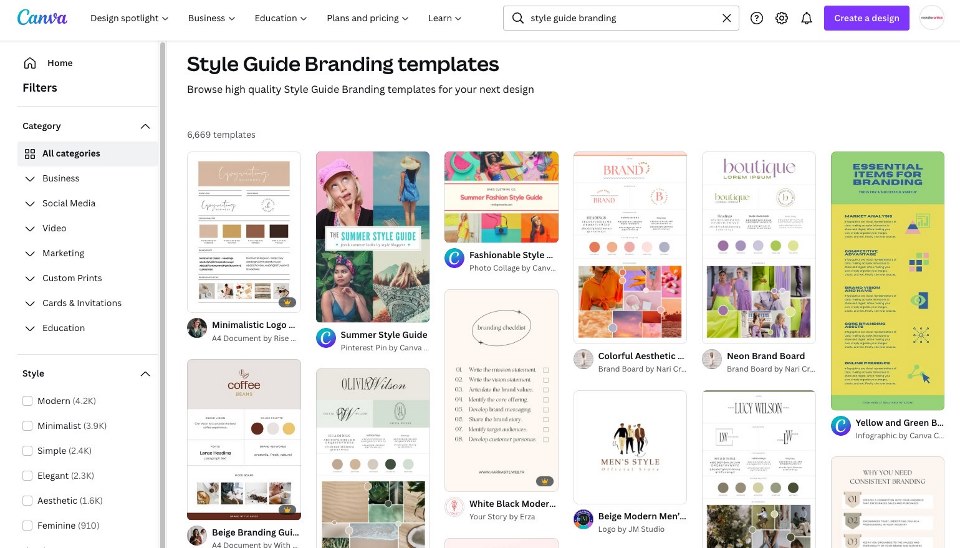 Once we have chosen a template to start from, we begin editing. Our next steps include: 
Changing all text within the style guide document to our chosen font.  
Amending all colours to fit with our chosen colour themes and codes. 
Add and replace all templated colours with RGB and HEX codes, while also editing the colours for your colour pallet, likely demonstrated in shapes on your style guide.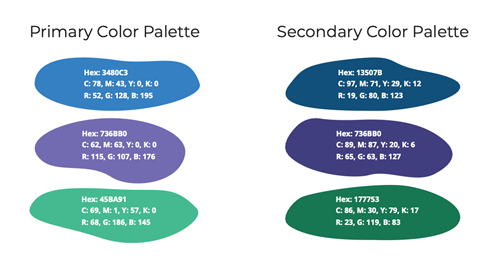 Add in your logos. You will likely want to include horizontal, monochrome, icons and full text logos. You can download your logos from your logo storage on Logo Repo to add into your style guide. 
Be sure to also include any rules regarding your logo and things not to do in terms of colour mixing and backgrounds.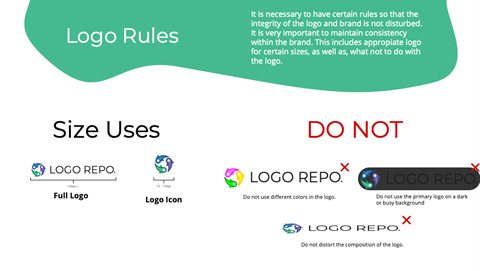 Who uses a style guide?
Simple answer – anyone dealing with company materials that include creativity. Style guides exist to help define standards for copywriters, designers and marketers primarily.  
There is no limit to who can and should use a style guide, and it should be accessible to all employees. Sharing your style guides on your company intranet should be encouraged so that branding documents are accessible by all that need them. 
Where to store marketing materials like logos and style guides 
As we mentioned above, it is important to keep all branding documents like style guides easily accessible for those that need them. We recommend adding them to your company intranet, so that they can be accessed from your internal hub with one click and is easy to find. 
In terms of logos, you need an easy place to download them once you have looked at your style guide to decide which one you require. Logo Repo offers a place to store your logos, and easily download them in the size required. This is great for not taking up sacred place in your 'Downloads' folder and is easy to access whenever you need your logo.